Tell me the Deets on Prom !!
`
On April 22nd South El Monte High School held this year's 2023 prom. Prom night is often one of the most anticipated events for high school students, especially seniors. It is a night they've been eagerly waiting for, and it is the culmination of their high school experience. For many students, prom night is a chance to dress up and feel glamorous and special. So, how did this year's prom go? Well let's look into it more. 
This year's theme for prom was "Twisted Forest," in simpler terms, it was to be of a more floral setting. Almost all decorations involved the color green, giving off the "forest" vibe. Prom had also included a few sorts of entertainment for recreational use such as decorations, signs, and backdrops where students took pictures with either their chaperones or friends. Even the use of a photo booth free of charge was provided for students. In addition personal portraits in which students actually had to pay for the picture. 
In movies prom normally takes place within the school's gymnasium all decorated and songs like "Forever Young" would be played. We're talking about the average 1980's prom, this year's prom of 2023 for fellow seniors was quite more modernized. Prom was to be held at Los Coyotes Country Club, a large banquet hall in the city of Buena Park, home of Knott's Berry Farm. The entrance consisted of walking underneath a floral arch into the dining hall where several tables were scattered, and a dance floor sat right in the middle. Music entertainment was provided by a DJ . Songs that night shuffled between various genres like Spanish rock, TikTok songs, corridos, a bit of 2000's, and more. Though the music played had received mixed emotions from the audience, "I personally didn't like the music and I kinda wish they played more slow songs," stated Jesenia Garcia, a senior who had attended prom.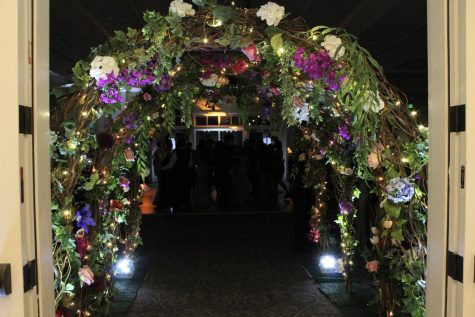 In order to keep students full and energized food was served. They provided several options to choose from. These options included pasta, lasagna, garlic bread, salad, and sliced fruit. This was the main course of our meal. Beverages were also included. In one corner, coffee was available, including decaf, and even the option of tea as well as the typical sodas. The dessert was served last. It included several flavors of cookies and ice cream, with toppings of student's choice. "I loved dessert. Specifically the chocolate ice cream. It's like my favorite, so once I heard they had some I went as fast as I could," stated Aaron Olivares, a Junior who attended prom. "The main course wasn't particularly my favorite so before dessert I snacked on some grapes, but had my eyes set on the ice cream for sure."
After dessert the prom king and queen were to be announced. This year's winners were seniors Jayda Lopez and Xavier Torres. "When I heard them call my name I was super excited! Me and Xavier winning together was what I'd hoped for," stated Jayda as this year's prom queen.  As They were awarded their crowns they were to slow dance with one another. After the King and Queen dance, a raffle was held to reward someone with graduation tickets and gift cards. As students entered the venue, they handed individuals a submission and raffle ticket. After the raffle ended the night was nearing its end. A few more songs were played, students slowly started to head home for the night. Prom had ended and seniors had the chance to create unforgettable memories they take with them as they begin a new chapter in their life as the graduated class of 2023.