The Sports World Takes A Collective Time-out During COVID-19 Pandemic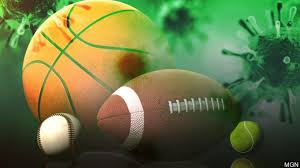 The COVID-19 pandemic has immensely increased its presence, and extensive measures have been taken after the advancement of the virus in the U.S. The world and all its action has come to an abrupt halt. One of the most well-known parts of our everyday lives has also stopped all activity, that being the sports world. Rumors of playing sporting events without fans in attendance had been the first talks to spring up, making many people from players to fans worried and upset. More drastic actions have been taken though, with national stages such as the NBA (National Basketball Association) and NHL (National Hockey League) are postponing their seasons until further notice, whose seasons were nearing the end and preparing for the playoffs. 
The first player in the NBA to test positive for the coronavirus was Utah Jazz center, Rudy Gobert. The Jazz canceled their game just minutes after and had fans leave the arena, while the Jazz and their opponent, Oklahoma City Thunder were quarantined in their respective locker rooms for hours before being released. This was the tipping point, where the NBA shutdown followed by other sports leagues. Within the next few days after that, more players from around the NBA and other national sports stages had players test positive for COVID-19. 
The NCAA (National Collegiate Athletic Association) has also canceled its coveted March Madness basketball tournament as well, while the rest of the schools even shut down all athletic activities. Even MLB (Major League Baseball), whose season has yet to begin and was originally slated to start on March 27th, has now canceled all remaining spring training games and pushed back Opening until confirmed safe by the CDC (Centers for Disease Control). 
The MLS (Major League Soccer) has also temporarily shut down all match play, and the NFL (National Football League) which doesn't begin until September has canceled all public events and plans to keep its draft as scheduled from April 23-25. They will have significant changes to it however, one being that the draft prospects and their families will not be present. The draft was supposed to take place in Las Vegas, but instead will only be televised with its teams participating from its own separate locations.
The impact on the sports world has affected everyone, but it has also hit closer to home with our high schools as well in El Monte Union High School District. In one of the first district-wide emails sent out regarding the coronavirus and school activities, Superintendent Dr. Zuniga addressed the spring sporting events situation. Originally the choice was for all outside tournaments and invitationals to be canceled and only Mission Valley League competitions were to be played. However, on the morning of March 13th, CIF stated that all spring sports were suspended until April 3rd, which was when they will have another meeting while they took a "wait and see" approach on how to handle the situation. Later that day on March 13th, the EMUHSD had closed its schools temporarily until March 27th, which has more recently been extended to May 4th. With schools closed, the spring season would most likely have to wait for the reopening of schools if it were even to resume play at all.
If this is the case many high school seniors may have lost their chance to play out their last season. Baseball, Softball, Track and Field, and Boys tennis players all had their season cut early. Baseball and Softball were only 2 games into league play. Track and field, along with tennis had already begun league meets and matches. The optimism and excitement of a fresh new season was on the rise, but only to be shut down so early. With their fellow classmates already getting to experience their senior nights in their respective sports in the previous seasons of winter and fall, the opportunity for that to happen for some seniors has faded away. Maintaining an optimistic view of returning to school in May, maybe there is still a chance for these seniors to have their chance with what remaining time there will be in the school year. Only time will tell until this extended time out comes to an end.