Rebecca Reyes and Their Fashion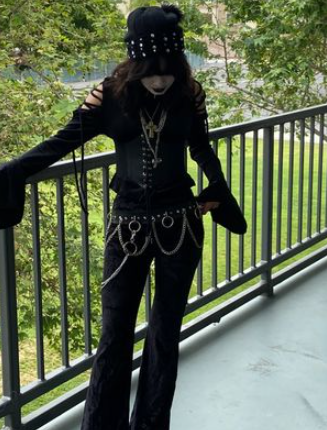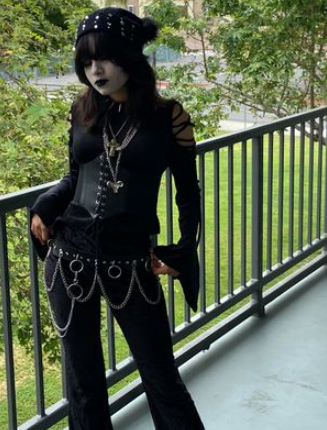 Who is Rebecca Reyes? Rebecca, known as Becky, is a sophomore at South El Monte High School who uses the preferred pronouns They/Them. At South El Monte High School, Becky has joined the Fashion and Crochet club. Various people call their style interesting. Becky's point of view would be categorized as goth or emo.  
It should be noted that it is quite hard to find clothes for their style, as Becky expressed. They get their clothes from Hot Topic and Pinup Boutique, both stores are located at the Valley Mall in El Monte. Becky has bought two shirts from a brand called Hell Bunny, because it sells uniquely designed clothes. It's rather expensive, yet it's their favorite brand. Hell Bunny is a brand that sells alternative, 50s style, and retro/vintage clothing.
 Becky likes the way they dress because it makes them happy. They stated, "Physically it's not that comfortable … like where I want to scratch my face, I can't (because of the makeup) and sometimes the clothes get hot, but it makes me comfortable on my skin." Their fashion choice is who they chose to be, and it's apart of them. Becky doesn't have a specific idol, but they see a lot of people on the internet and are inspired by what they see. 
The color Becky associates with the most is black, red, and/or white. But goth/emo fashion can consist of other colors. Describing Becky's fashion, Becky stated, "They wear all black with a hint of color (such as) red or white. They wear big shoes, Fishnets, and a lot of accessories…" According to Becky, to get the 'Goth look,' "You get white foundation or the lightest color, and just dab it all over your face, and have to put white powder on top of it…thick eyeliner, some black lipstick, black eyeshadow, and if I'm wearing color, I would add a hint of red sometimes." They do this makeup look because, "It brings out their face since they wear all black. White suits well in Black…"  
Becky describes how people will look at them by judging how they dress or look in an uncomfortable way. Growing up as a child, Becky said they were pretty suppressed when it came to the type of clothes they could wear, once Becky started high school, they started to dress more independently. Becky started to receive more looks and compliments from other students.  However sometimes not all people have been friendly toward Becky's fashion sense. Becky stated, "I get laughed at sometimes whenever I'm walking by some people will look at me strangely, and I need to remind myself it's for me, not for them, and it makes me happy, and that is all that matters." When it comes to hair, Becky lets it be messy but needs to cover their forehead. 
 Becky also has a particular taste of shoe choice. Becky stated, " What kind of shoes I prefer are tall soles around 3 or 4 inches, or wear heels, mostly my favorite shoe brand will be Yru shoes." In fashion, they really don't do anything, but next year the Fashion Club is planning to do more activities, or maybe two more fashion shows, because people are more interested in that.  The Fashion Club is planning to make their own clothes and jewelry next year. 
 Becky stated, "I'm Planning on joining an art club next year or sooner, but I heard we're going to have more art supplies so we can do more stuff with actual art." Becky is planning on going to the Fashion Institute of Design and Merchandise in Los Angeles for probably 2 to 4 years.  It is a fashion school. Becky is planning on making their own business in the future. During summer they are going to practice Crochet and art, as well as attend summer school.