What did Eagles Wear to Prom?
Prom 2023 was on Saturday April 22nd at Los Coyotes Country Club and the theme was 'Twisted Forest'. The seniors and juniors of South El Monte High School have been waiting for this day to come for months, since prom is known as a really memorable experience. Many people were stoked to put on what they have been planning to wear for days, weeks, and possibly months. 
When you finally start to think about what you could possibly wear to Prom, the first thing that comes to mind is obviously the dress. Since the theme for Prom was 'Twisted Forest', Senior Faith Garcia knew almost exactly what she was going to wear, "I was going for a style that went with the theme of prom, so I went with a fitted sage dress." Although some people disagreed with going by the theme and chose to do their own thing, "I didn't want to go with the theme…" said Senior Stephanie Vega, "It just didn't fit me, and I didn't like it so I went with something else." Senior Jesenia Garcia also agreed with Stephanie and stated, "I personally didn't like the theme, so I just did my own thing." 
When Faith Garcia began to look for her dress, she started searching for the perfect outfit 3 days in advance. "It took me 2 days to find my dress, jewelry, and heels were easier to choose from since I had the dress to match them with." As said previously, Faith chose to go with the theme of prom, so she made sure everything about her outfit conveyed 'Twisted Forest'. "I went with a fitted sage dress, the dress is long and open legged, covered in glitter with small rhinestones in a pattern, and I got it in Downtown LA." Downtown Los Angeles is known to be filled with many boutiques made for events other than prom, like quinceaneras, weddings, first communions, or any other events involving elegant attire. Faith didn't just stop with getting the dress, she made sure everything about her look was perfect, "I got my nails done, wore silver diamond bracelets, long dangling silver earrings, and a silver rhinestone necklace." She shared that she made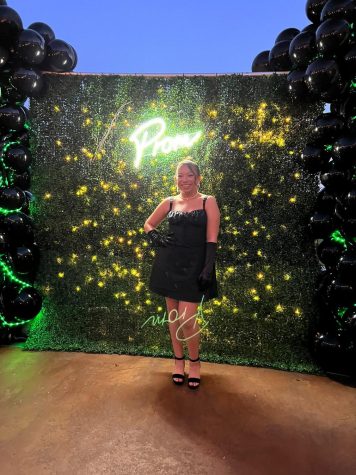 a significant change with her hair, "I have short hair so I ended up buying hair extensions, and I curled it and added shiny silver hair clips." Although Faith didn't have much time to prepare, she still got it done and looked stunning. 
Stephanie Vega knew the exact vibe that she was going for, "I went for a mix of Marilyn Monroe and a Breakfast at Tiffany's kind of style." She wore a dazzling short black dress since she shared that she didn't want to be stepping on a long dress at prom. Stephanie wore pearls to compliment her outfit, "I wore a pearl necklace, pearl earrings that are in a heart shape, and a pearl bracelet." She shared that she got her dress from House of CB, located in West Hollywood, and can be shopped on their online website. In order to really perfect her look, she wore long black gloves that she bought from Amazon. Stephanie was going for an old money look, and she really executed the style that she went for at prom. 
Senior Jesenia Garcia wore a long elegant navy blue dress at prom. She began looking for her dress during the school's spring break, so she
wouldn't have to look for an outfit at the last minute."I was trying to look for something that I would feel comfortable in, but also something that I thought looked nice," said Jesenia. She made her shopping experience easier by buying her dress at Windsor. Windsor is a well known store that many teens and adults tend to look and shop at for formal events. She expressed that navy blue was the color she was looking for, "When I put my dress on, I knew that this was the dress that I wanted to get," Jesenia accessorized with silver jewelry and had her hair in a half up half down hairstyle. To make sure she maintained a glamorous look, she kept a neutral tone on her makeup with a glitter cut crease. Jesenia made a good move and looked classy. 
In many people's eyes prom is a huge deal, and the Eagles really outdid themselves this year. Everybody looked great although not everyone followed the theme. Senior Stephanie Vega shared some advice to students attending prom next year, "Stick to what you like and whatever your style is but also try something new if you're up for it."