South El Monte's Nest gets Modernized (Ground- Breaking Ceremony)
Happy 30th Birthday South El Monte High School! This school year has marked 30 years since the grand opening of this unique school.  These thirty years do not only mark 30 years of the birth of a new school, but it marks thirty years of memories and hardships. 
With South El Monte High School turning thirty years old, it finally qualifies for modernization. And that's exactly what they are getting, a modernization. This modernization consists of remodeling every single class and building within the campus to ensure that all facilities have up-to-date equipment. The preparation of the modernization project began at the beginning of the second semester, right after students returned from winter break. The modernization project started on the lower level floor of Building C. To mark this splendid achievement of modernization, a groundbreaking ceremony was held on April 4th after school at 4 pm.
There were various guests, teachers, and parents present at this ceremony. To showcase the blue and gold spirit, the Mighty Eagle Marching Band and Drill Divas were present at the event as well. The groundbreaking ceremony began with a speech read by the ASB president, Amelie Orozco Ramirez, who thanked and welcomed the guests, "Thank you to our El Monte Union Board of Trustees, District, and school administration for their hard work and effort toward making our school a better place." Orozco added, "I believe that these renovations are providing opportunities for us as students to come together, and have more discussions, collaboration, creativity, and relaxation, which will contribute to creating an uplifting environment and close-knit community for our present and future leaders."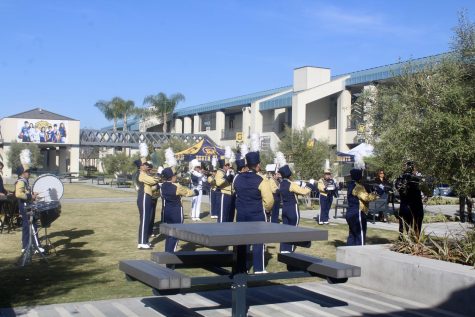 Many people were content with the modernization project and the future of South El Monte High School. South El Monte High School's principal Dr. Morales excitedly shared, "Our school's modernization project is an investment that focuses on the needed repairs and upgrades at South El Monte High School." Morales elaborated, "We are thankful to everyone who has played a vital role in ensuring our students have access to modern, state-of-the-art facilities that inspire them to pursue their academic and personal goals." This modernization project is broken into different phases and is projected to end in October 2024. 
Phase 1 of this project consists of remodeling buildings C, D, and E which is projected to start in January 2023 and end in January 2024. Phase 2 consists of Building B which is projected to start January 2023 and end by June 2023. Phase 3 consists of G, H, J, M, and A which is forecast to start in May 2023 and end in September 2023. Phase 4, which is the last phase, consists of building K and L which are estimated to start by August 2023 and be completed by April 2024. Some of the remodelizations include new desks for students to promote collaboration and new projectors. Superintendent Dr. Edward Zuinga was present at the ground-breaking ceremony and shared that, "The SEMHS modernization project will allow our students and teachers to maximize their capabilities and academic success.". Zuniga elaborated, "I'd like to thank our Board of Trustees, and community members for their generous support of the Measures D and HS bonds which have allowed us to invest in providing our students with safe environments that include the latest infrastructure and technology."
It's safe to say that the groundbreaking ceremony was a success, and it has made everyone excited for the future of South El Monte High School.