The Mighty Eagles & Mustangs Come Together For Leadership Development Day
What do the mighty Eagles of South El Monte High School & swift Mustangs of Fernando R. Ledesma have in common? They both share a passion for student leadership. Each year, one of the schools within the El Monte Unified High School District hosts a Leadership Development Day. This year's host was Ledesma High School. The purpose of a Leadership Development Day is to gather all the Associated Student Bodies from the six high schools and even some of the student councils from the neighboring middle schools, and teach them essential questions about leadership such as "What is Leadership?" and "How can Leadership be executed?" Some of the middle schools that attended this year's event were: Gidley Middle School, Potrero, and Shivley just to name a few. 
The development day occurred from 8:30 am to 2:30 pm on Friday, April 21, 2023 at the Ledesma High gymnasium. Even though the event only lasted approximately six hours, there was much preparation for this event. The ones who dedicated themselves to this event were the members of El Monte Union High School Student Advisory Council (SAC), South El Monte's ASB members, and the principal of Ledesma, Mr. Arteaga. Mr. Arteaga shared his thoughts about the experience, "Working with Dr. Zuniga and Ruben Carrazco was a very positive experience as they are great planners and communicators.  We all worked extremely well as a unit which made the experience extremely productive and gratifying.  SAC members also played a key role as each SAC member contributed in different ways. All the inspiring artwork from each school complemented the FRLHS campus." Even though a Leadership Development Day occurs every year, this year was special because it was the first time that Fernando R. Ledesma would be a host. Mr. Arteaga expressed his school's role in hosting this years event, "Hosting this year's ASB Leadership Day was an amazing experience for our staff and students. This was the first time in our district's history that our alternative school (FRLHS) hosted all the schools in our district as well as several junior high schools from our feeder districts."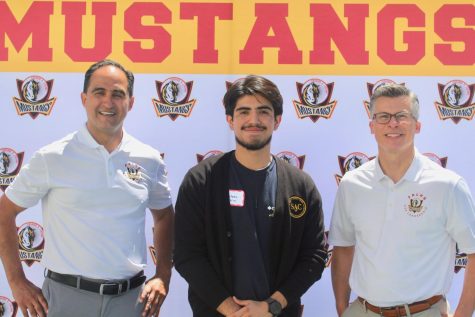 The morning of the event started with various SEM ASB members arriving early around 5:40 am, in order to decorate Ledesma with colorful posters and balloons. Each year the Leadership Development Day has a certain theme, and students make sure to dress and decorate according to that year's theme. This year's theme was "Inside Out" based on Disney's 2015  animated film of the same name which is a movie based on the main character Riley's emotions. Some of the characters are Joy, Disgust, Fear, Anger, and Sadness. Each school was assigned a character and was required to dress according to their given character. For instance, Arroyo's given character was Sadness and El Monte's was Anger. As SEM ASB members were adding the last decorations, some were called into the gym in order to be trained to be "facilitators" which would be the student leaders of their groups. Since all the attendees would be broken into groups of seven, and each individual group had their own facilitator. After the team leaders were trained, they'd begin greeting all of the attendees who began arriving. Various snacks were offered to the attendees in order to keep them energized for the day.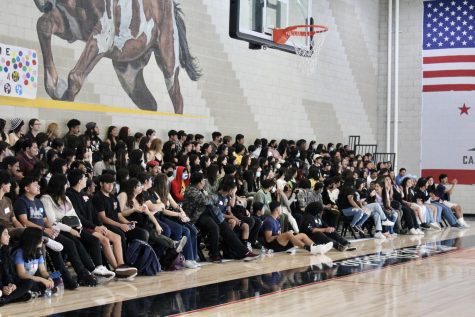 After everyone arrived, they were escorted and assigned a specific section within the gym. Then, Leadership Development Day officially began. This year's development day was led by Edgar Blackmon. Edgar had a couple of simple but empowering activities up his sleeve that would get students critically thinking about the meaning of leadership and teamwork. For instance, one of the first activities that the participants had to do was to learn a simple dance in order to get them out of their comfort zone, which seemed to work. Various participants had big smiles on their faces as they learned the dance. One of the other activities that occurred was an activity where students were assigned to put together a puzzle however unlike an ordinary puzzle, students were forced to think outside the box. Students had to flip the puzzle piece to the opposite side in order to complete the puzzle. Towards the end to warp everything up students had to get their creativity caps on. Each group was provided with colorful poster paper, and their goal was to pick one member out of their group, and create an outfit out of the poster paper for that person. Some created skirts, others created dresses. In the end, the chosen member had to model their outfits to the rest of the attendees. It's safe to say that everyone approved of all the outfits, because the gym was lightened with cheers. 
Finally when 2:30 pm came around students were thanked for their time and cooperation. Numerous ASB students stayed behind in order to help take down posters and balloons. After everything, this year's Leadership Development Day seemed to inspire students to go above and beyond their comfort zone. It also comes to show the power of student leadership, and that the mighty Eagles of South El Monte and the swift Mustangs of Fernando R. Ledesma do have some things in common. And just like Mr. Arteaga enthusiastically shared, "It didn't matter if you were Eagles, Knights, Panthers, Vikings or Lions.  On this day we were all Mustangs from the EMUHSD."