Rock Your Crocs
As high school students, we've seen the transitions of style in terms of clothing and shoes throughout these past four years here on campus. Back in 2019, my freshman year, students would often wear sandals or slides to replace tennis shoes to feel a little more comfortable throughout the school day. Others would wear them because they're convenient to slide on after they roll out of bed in the morning. It wasn't until my junior year when I first realized students slowly began ditching sandals and slides for Crocs.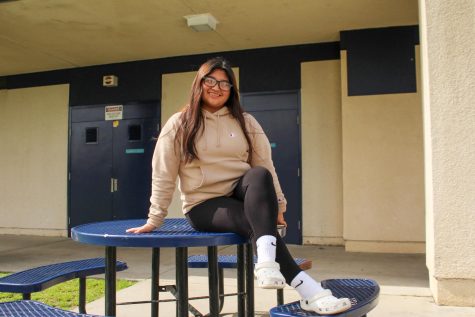 Crocs were originally created for boaters back in 2002. The purpose of Crocs was to prioritize grip focused soles, waterproof material, and foot protection. The following year, 2003, Crocs purchased Jibbitz, a family run business so people would be able to accessorize and customize their Crocs to their liking. Jibbitz is a company that  makes customizable accessories you can snap into the holes of Crocs. Fun fact: each pair of Crocs has exactly 13 holes. In 2008, Crocs nearly went bankrupt. They had announced a loss of $185 million dollars. This resulted in the company cutting approximately 2,000 jobs resulting in dozens of retail store locations closing across the world. At the time, they were producing too many different shoes, and this led to an excessive amount of shoes with not enough consumer demand. However, the company was able to survive and made their highest revenue during the pandemic. South El Monte High School student, Lizette Ramirez, bought her own pair in the course of that time. "I bought them during quarantine actually. I think it was around May 2020."  They quickly became the go-to shoes, not just for students but for everyone! 
Crocs are a great way to stay comfortable and unique. As previously mentioned, Jibbitz are charms that you can add on to decorate and personalize your Crocs. There's an extremely wide variety of charms sold, and you can find charms that resemble letters, musicians, people, food, animated characters, and so much more. I own a pair of Crocs myself, and I'd say it's fun shopping around for charms because there's so many options to choose from. My charms are based on the things I like. For instance, one of my favorite movies of all time is Shrek 2. Therefore I have a Shrek charm. I love the brand Sanrio so I have two My Melody charms. I also like to refer to my Crocs as Shrocs. (Jesenia Garcia) 
The charms can range from about $1 to $6 dollars depending on where you buy them from. Croc charms can be bought at places such as Downtown LA, swap meets, mall kiosks, or directly from the Crocs store. They could even be bought on online websites like Etsy. Lizette Ramirez 24' recommends buying them from Downtown LA and swap meets since they're sold for a cheaper price there. "I personalize my Crocs with charms of my favorite singer, which is Bad Bunny. I have flowers and I also have some Mexican charms," she shared. Lizette sees her Crocs as a reflection of herself and her personality. On the other hand, Alexus Robles 26' explained her reasons for her charms, "I have a softball because it's my sport, an A for my name, a 5 because it's my favorite number, and an Among Us because Among Us is amazing." Charms can add some personality to otherwise plain shoes.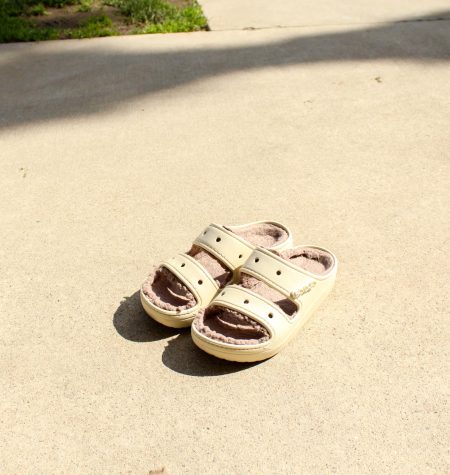 I own a pair of Crocs as well as Jesenia however, I own the Crocs' Classic Cozzzy Sandals. This particular line are sandals that have fur lining with two straps. I don't customize my Crocs because the charms have increased in price due to its popularity. From my experience, one charm with a simple design will have the price tag of five or even six dollars which is too overpriced for the consumer, but good business and profit for the vendor. That's why I try to shy away from buying charms and rather focus on getting Crocs that represent me through the color and design. (Stephanie Vega)
When it comes to Crocs, there is quite a variety. For example, the shoes come in various colors and styles. I would say the most popular style right now is the Classic Clogs. Isabella Vieyra 24' could agree seeing as to how she's on her 4th pair of Crocs. "When I was four I had hot pink Crocs. Now my most recent pair is like a tan color." Out of all, the styles my least favorite design is the Classic Clogs because they are too big and I feel like I could easily trip because of them. Plus, to me they look like clown shoes (Stephanie Vega). Lizette Ramirez currently has these styles of Crocs plus an additional pair, "I have many pairs. Well only like 4 but they're in different styles," she joked. "I have the original clogs, the slides, the cozy clogs in baby blue, and the sandals. My other pairs are white." The cool thing is that they could match with pretty much anything because of the wide variety available.
Something I've noticed is their increasing popularity among student athletes. After practices or games, they would  typically be seen in Crocs. Student athlete Samantha Perez 25', shared her insight on the topic, " I think Crocs are so popular within sports because right after a game your feet are hurting, you're tired, so you just want to wear your most comfortable shoes." She continued, "Personally I prefer Crocs because they're more comfortable than slides, at least they're more comfortable than my slides." Other than the factor of comfortability, students tend to follow each other when it comes to trends. Once one person starts wearing something, so does everyone else. I think this could be seen in school, especially in school sports. During my freshman year, the only time I would see students wearing Crocs was both before and after games/practices. After awhile everyone just started wearing them, even during the school day. Samantha believes she'd still wear them even if no one else was because once she realized how comfortable they were there was no going back. 
Even though Crocs are most popular amongst students at South El Monte High School and other Gen Z'ers, it isn't quite as popular amongst the adults, in this case the teachers. Social Science teacher Mr. Johnson expressed that, "I always had the impression that Crocs were like indoor pajama shoes. I see those as slippers." He goes on to elaborate that he sees the trend of Crocs an odd one and shared that he hasn't fallen into the trend as he himself doesn't wear them. Math teacher, Mr. Lopez shared that he isn't a fan of Crocs because "they are very hard to clean." This comes to show that even though Crocs are very popular, they are not everybody's favorite shoes. 
Ultimately, there's more than what meets the eye. The Crocs serve as a way to feel comfortable, and let your feet breathe. However, Crocs serve as a fashion statement, they serve as an opportunity to showcase someone's interests and personality through the endless styles, charms, and colors to choose from. Even though some people will criticize and say that Crocs are clogs, slippers, or even clown shoes, it is safe to say that Crocs are "IT." Crocs are the "IT" shoes of the moment, and they are not going anywhere anytime soon. Buy a pair of Crocs, hop on the trend, and always be ready to roc your Crocs.