JV Eagles Triumph Over the Lions 37-21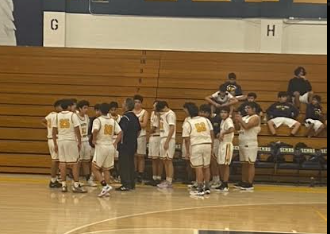 The South El Monte High School boys basketball team had a game on January 9th on a Monday at the gym at 3:30pm and ended at 5:00pm. Some parents and students came to see the game. The first game was 6 to 0. The game was going well. Sophomore Ethan Minor scored the first point and junior Fredy Guzman Diaz made the assist and sophomore Aaron Flores scored the last point of the play with a jump shot.          
In the second quarter Aaron subbed out of the game and sophomore Fabian Garcia came in. Fabian was yelled at by Coach Saldana for looking around and not moving, he received the ball and scored a point and made the score 24-7. At halftime the Eagles took a 6 min break to make a plan to win the game.  Sophomore Roderick Martinez scored a point increasing the Eagles lead. Josh and Aaron Flores provided solid defense holding the Lions back from catching up to the Eagles. 
In the third quarter Ethan scored the first point. They played a good game and the final game score was 37-21 South El Monte prevailed. The game ended at 4:30pm. 
          Coach Ray shared his thoughts after the game, "During winter, we were scheduled to be in tournaments but something happened with the paperwork, so we didn't get to play any games going into the league. Even with the lack of experience the boys had, they still came out and played a good game. Our shots were on point, didn't have a lot of turnovers and we did a good job at rebounding."
   Sophomore Roderick Martinez stated after the game, "The defense was good, communication was on point. We were able to move the ball, and that resulted in a victory."