From A Small Town In California To The Most Prestigious University In The World
Imagine receiving an email saying to check your applicant portal and hoping for the best. For one student, that was his reality. He realized that he beat the odds on December 1st when he was congratulated with confetti and read the following line, "Dear Ruben, You Have Been Admitted To Stanford's Class Of 2027." Senior Ruben Carrazco, elaborates that he "felt numb & spaghetti-like" when he received the news. For the last couple of years, college admissions have gotten more competitive and acceptance rates continue to drop. For the year 2022, Stanford only admitted 4% of their applicants. 
After receiving the excellent news, the first person that Ruben called was his mother, "I called my mom first because every celebration is hers too. We both have worked extremely hard, I've seen the endless sacrifices that she has made and this acceptance was a form to show her that I did it, WE did it, and that all of her sacrifices were all worth it." 
Ruben acknowledged the magnitude of his accomplishment and how significant it is coming from an underrepresented socioeconomic demographic, "It's not normal to see students from Hispanic low-income communities get accepted into one of the most prestigious universities in the world," stated Carrazco. "That's why I feel this acceptance is a big deal, not just for me but for my community."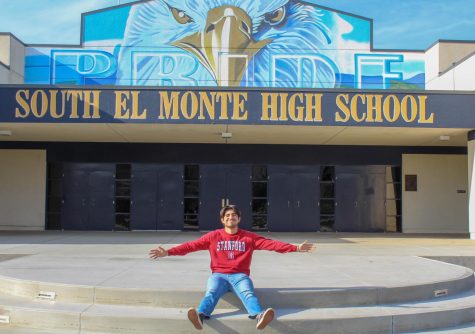 With his acceptance, Ruben hopes to show other kids that it is indeed possible to get accepted to these great universities. Ruben will join South El Monte High School alumni, Santiago Alvillar ('20) and Marina Limon ('21) on the list of Eagles who attend Stanford. Santiago & Marina are two people that Ruben has reached out to in order to get a better perspective on life at Stanford. 
Even though Stanford is still located in California, the culture is very much different from what he is accustomed to. "There is a specific image of a Stanford student which typically are white rich kids," Carrazco stated. He knows that he'll have to endure various culture shocks but through Stanford's diversity, he is sure that he will be able to preserve who he is.  He is ready to bring his unique experiences and perspectives to the infamous world of Silicon Valley. For instance, Carrazco exclusively shared that one of his favorite memories that he'll take with him is when the ASB class helped with the CBI prom, "seeing how joyful they were and their incredible moves warmed my heart." 
Since acceptance rates continue to drop like crazy, it may feel more realistic to win the lottery than to get into Harvard or Stanford. However many people are still reassured that there isn't a specific formula for getting into these top universities. Carrazco shared, "I agree there indeed isn't a specific formula … my advice to students is to show their true selves and to do what actually interests you and make sure to show your flaws in your application but highlight the growth." He also shared a pill that may be hard to swallow, which is that "you will have to make endless sacrifices." Ruben has cut video games and social media time from his life. Instead, Ruben spends most of his time completing assignments and participating in clubs. Some of the clubs that he has been part of during his high school years include California Scholarship Federation, Freshman Mentoring Program, Academic Decathlon, Boy's Soccer, Boys Volleyball, Class Of 2023 Club, and Chess Club just to name a few. 
In the end, it's safe to say that all of his work paid off. Ruben has committed to attending Stanford in the fall thanks to their partnership with Questbridge, which is a program that helps low-income students attend prestigious universities. He will pursue a bachelor's in Mechanical Engineering with a focus on Robotics. And for anyone considering applying to Stanford, Ruben leaves you with a piece of advice "Just do it, because you never know what may happen."