Thanksgiving Food Drive 2022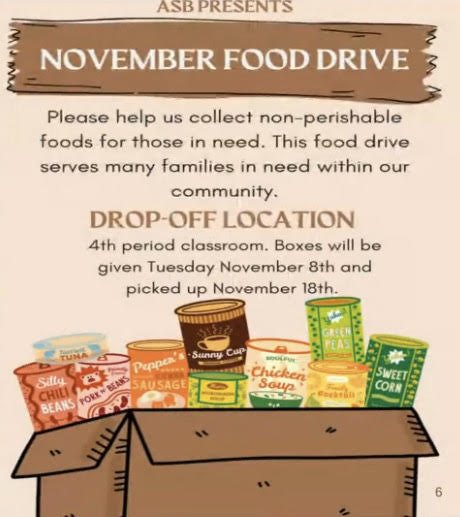 As Thanksgiving nears, ASB begins to host our Annual November food drive, which started on November 8th. The November food drive will help many families in need in our community. The cans of food are donated to families who are less fortunate and cannot afford to eat for Thanksgiving. The food must be non-perishables like canned stews and chillies.
The boxes for the food drive were passed out to all 4th period teachers on Tuesday, November 8th. The students had to help their teacher with filling up as much of the box as possible. ASB students then picked up boxes on November 18th, so that gave students and staff a week to fill up their box. SEMHS hopes that our students and staff are kind enough to share a portion of their canned foods from home.  
South El Monte high school has been hosting the November food drive for more than 15 years. This food drive is a very easy way for students and staff to help families this Thanksgiving. ASB hosts the November food drive to help families in need and financially struggling. "We understand that many families have trouble during the holiday season and know that giving a little makes a huge difference," said ASB president Camila Ortega. The boxes of canned foods are donated through a nonprofit organization. "The organization collects the big order from us and sets up a certain day when they donate the food," said Camila. 
Giving back to the community makes people feel good. "Hosting the food drive makes the ASB class feel we are doing something good for our community and students," stated Director of Student Affairs Mr. Castillo. He went on to say, "It is the month of kindness, and this is a way to show kindness and generosity to our community."