Introducing Miss Cheng
 This year South El Monte welcomes a new teacher to the social science department, Miss Cheng.  She currently resides in Mr. Kidder's former room 202 where the Eagle's Nest had a chance to explore the environment of her classroom, and get to know her teaching style and methods a little better.   
Miss Cheng not only teaches 1 but 3 subjects at South. She is in charge of teaching World history, AP European history, and US government. Even though this is her first year teaching at South, this is actually Miss Cheng´s 10th year teaching overall, which makes her a veteran professional in the classroom. Miss Cheng attended and graduated from Temple City High School and then attended college. For her undergrad and teaching credentials she earned her degrees at Cal Poly Pomona. She then pursued and earned her Masters in history at Cal State Fullerton. Miss Cheng started her official teaching career in the year 2013 at Rosemead High School, earning the job she's strived for. When asked what inspired her to become a teacher, she said, "Well, I had good and bad teachers in high school. I was inspired by the good ones and motivated by the bad ones." Miss Cheng expressed her motivation that stemmed from unethical and ethical educators to become the teacher she is now.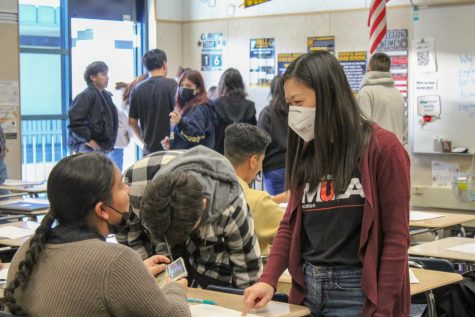 Taking a closer look inside Miss Cheng's classroom environment,  the Eagle's Nest observed how she teaches and the interactions between herself and her students. When asked how Miss Cheng begins the class she responded, "The Students will begin writing the objective, and I'll take attendance, I tend to be a stickler for tardiness." Describing the steps that begin the flow of the class, she keeps an eye out for tardiness since as a teacher believing arriving on time is essential. Miss Cheng has established some firm rules in her class, when asked if she has any essential rules in class that are important to her she said, "Yes the God rule: respect."  She explained that in her classroom she makes sure all should be respected, and all should be respectful. In her classroom, the students interacted well with one another, Miss Cheng  kept them on task and focused on their work. How might she be doing this so effectively you might ask? Since the biggest distractions in classrooms today are student smart phones, in one corner of the room there were pockets numbered where the students all placed their phones into an assigned number. This system appears to minimize distractions. 
In spite of Miss Cheng's phone policy, technology in general wasn't prohibited for learning purposes. She provides opportunities to use technology for all her subjects. For example, she provides online assignments for Government and Ap Euro, as well as resources such as websites, educational videos, and articles in her World history class. Outside of class Miss Cheng gets along with other fellow teachers, stating, "Mrs. Wong and I make sure we are on the same page since we switch students halfway  through the year." Since joining the South staff, Miss Cheng has enjoyed her time here as a teacher. She looks forward to participating more in extracurricular events in the years to come.