Halloween 2022 Costume Contest
Halloween at South El Monte High School was filled with fun and creative costumes. Students were able to show off their costumes at the Halloween Costume Contest which was held at the SEMHS quad. The Fashion Club hosted the show during lunch, and some of the students received special recognition, and won a Starbucks gift card by getting chosen by the judges (Ms. Frias and Ms. Morales) for catching their attention in one of the following categories: scariest, creative, funniest, best duo, and teachers. 
There was a wide variety of costumes which included Eleven from the show Stranger Things. Stranger Things is a very popular show involving a girl with mind powers. Another costume that was present in the fashion show was the Mandalorian which is a popular show from the Star Wars franchise. There were also costumes from classic horror movies like Michael Myers, Chucky, and Freddy Krueger.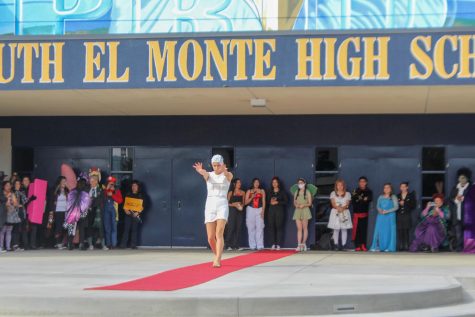 The scariest costume went to Chucky, he walked the red carpet menacingly and definitely creeped the audience. The most creative costume was the Camera head, the costume included a giant security camera for the head and a black tuxedo. The funniest costume was Patrick Star from SpongeBob Squarepants, it was an inflatable costume and he danced very goofy while walking down the runway. "Not a lot of things can make me laugh, but the way he danced definitely did," said student Alex Medina. For best duo, Michael Myers and his victim took the title. The victim was casually walking down the runway when suddenly Michael Myers appeared behind her and picked her up and the victim began struggling. The Sanderson sisters won the teachers category, they walked proudly showing off their costume from the movie Hocus Pocus. 
This year's Halloween was filled with a lot of spirit and participation. SEMHS students showed a lot of support to the contestants. "It was fun to see all of these cool costumes and it's great seeing how creative students can get," said sophomore Alyssa Villa. They're excited to see how next years costumes are going to look.