State Mask Mandate Lifted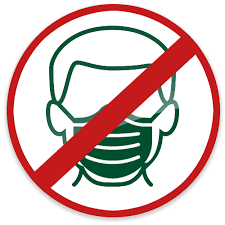 On March 1st, State officials lifted the requirement for people ages 2 and older to wear masks in indoor spaces. "We will need to remain vigilant and continue the practices that got us here- wearing masks and getting vaccinated- but the light at the end of the tunnel has never been brighter," said California's Governor.
Some schools in California may still be requiring masks indoors depending on the individual district and their policy. The California Department of Public Health said in a press release, "The state is continuing to work with education, public health, and community leaders to update masking requirements at schools to adapt to changing conditions and ensure the safety of kids, teachers, and staff."  
Along with California other states such as Oregon and Washington will switch over from mask mandates to mask requirements starting at 11:59 p.m. March 11. California will also drop its requirement for unvaccinated people to wear masks in indoor settings, but still recommend people wear their masks in public indoor settings. 
Face masks will still be required for people in high transmission settings like public transit, emergency shelter, health care settings, etc. "I would still recommend that if you are in indoor spaces, especially those that are crowded, that you put on a mask," said Dr. Rachel Rubin of Cook County. 
The Transportation Security Administration mask mandate for airports, commercial airlines, and public buses will be lifted on March 18. Masks are not going to be required on buses, however school systems may choose to require people to wear their masks on buses or not. 
The EMUHSD will continue to require students to wear their masks at schools until April 1st, with the Superintendent saying, "EMUHSD believes that wearing masks indoors will continue to provide added layers of protection for all of our students and staff while at school. As a result, the District will continue to require the wearing of masks indoors at all schools and District facilities through April 1, 2022. The District will reassess the requirement to wear masks indoors monthly. Accordingly, we will continue to have upgraded masks available to students and staff."
**EDITORS NOTE: On March 29th, Dr. Zuniga sent an email notifying the district that on April 4th masks will be optional indoors for students and staff.