Slurs Thrown Around In Class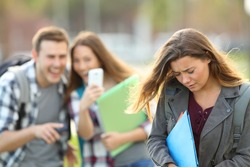 A slur is an offensive term that is used against a specific person depending on their race, sexuality, illness, gender, and much more. Although slurs can be reclaimed by an individual who has experienced oppression, the reclamation of a slur is a long traumatic process. It takes linguistic change. These words are being used in a derogatory meaning and it isn't okay, especially when it's being used in the classroom. Where can one draw the line until they can say "this is it, we can't let this continue any further?" Some students aren't comfortable with the inappropriate use of slurs and language that are being thrown around the classroom. Teachers should be aware of the profanity being used in their classrooms instead of ignoring the situation, or at least take more action if noticing the inappropriate language usage.

Students who say such offensive slurs should be advised of what they're saying, it doesn't matter if they are saying them in a joking way or being straight-up disrespectful. Words can harm loads of people, that's why it's critical to know the vast energy of repulsiveness that slurs have. Many slurs have a dark history. Although we can't force people to stop saying slurs, we can be honest about how it makes people feel. There's a possibility that they will stop saying them. But popular social media apps like Tik Tok are softening the use of slurs. Why would someone take pride in saying a slur you can't reclaim when you know the significance of it's history and how it can affect others with trauma. Imagine how much of a toll it will take on a student who experiences oppression hearing these slurs being thrown around like they are nothing.

I was always mistaken for someone else growing up due to my lack of body development and the way I acted, even by adults. It didn't matter what I wore or what I do in general, people looked at me differently than everyone else. Harassment and verbal abuse seems to be something I've always dealt with my entire life and it never really seems to go away. That's why it makes me uncomfortable to hear slurs and hurtful stereotypes about my community and other people who have dealt with oppression in general. People who say slurs are ignoring the bigger picture at hand. When someone decides to say the n-slur, they are ignoring the fact that there's major history behind that word. If you have access to the internet and have a personal device, you can learn about the meaning of slurs, however if you don't have access to the internet, then ask people about it. There's so many people willing to educate others about slurs and share information. It would be ideal for students and people in general to be self-aware when saying slurs.