Biden's first 30-days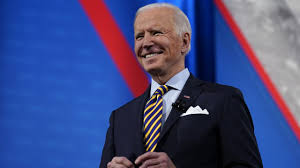 On January 20, 2021 Joe Biden was elected as President of the United States. Although it's only been a month he has done a lot. He signed the executive order to create a framework addressing the underlying causes of migration to the United States. He also signed the executive order elevating climate change as a national security concern and committing to the goal of conservation goals.
"It's — that's why I'm signing today an executive order to supercharge our administration's ambitious plan to confront the existential threat of climate change.  And it is an existential threat," said President Biden. His plan is to ensure the U.S. achieves a 100% clean energy economy, and reaches net-zero emissions no later than 2050. Biden's climate and environmental justice proposal will make a federal investment of $1.7 trillion over the next ten years. 
Joe Biden unveiled a plan Wednesday to reform the U.S. immigration system and reverse President Donald Trump's policies as Democratic White House hopefuls pressure the president over some of his most criticized tactics. Biden wants to stop the Trump administration's separation of migrant children from parents, end extended detention and reverse restrictions on travel from several predominantly Muslim countries.  Biden wants to create a pathway to citizenship for about 11 million undocumented immigrants in the U.S.
He signed the executive order reversing the Trump administration policy to ban transgender people from serving in the military. Biden has chosen Pete Buttigieg, the first openly gay man to be confirmed in a presidential cabinet, as the new Secretary of Transportation. Biden has pushed for passage of the Equality Act, which would add anti-bias protections for LGBTQ people in all 50 states. Biden has pressed for new guidance that would allow transgender students to access sports, bathrooms, and locker rooms that align with their gender identity.
Biden wants to end Trump's tax cut. Biden has said he would swiftly double the taxes that US firms pay on foreign profits. Biden had made clear that he "would want to repeal parts of the 2017 tax cuts that benefited the highest-income Americans and large companies." The 2017 law cuts taxes for individuals and lowered the corporate rate to 21 percent from 35 percent.