Van Gogh LA, Electric Mile Fun, and Stranger Things Arrive in Los Angeles
As we approach almost a year since the COVID-19 lockdowns, it's plain to see that teenagers have run out of ways to cure their boredom. The world is adapting to this new online life, virtual experiences are becoming more and more prevalent with people who are looking for an escape. 
Electric Mile Fun is a drive-thru audiovisual experience located in Arcadia. It was extended through February and displays a variety of lights and displays you can enjoy. Passengers experience Electronic Dance Music ranging from Diplo, Skrillex, and deadmau5 emanating from their FM radio. Guests have the option to purchase 3D glasses to enhance the visual experience. The creators behind it are the same people who run EDC, an electronic dance music festival. Tickets are starting from $70.00 per car and are available for sale online. Google Reviews are raving about this drive-thru magic. One reviewer stated that the show was "Amazing . …. Beautiful, totally fun. Great lights and music experience." 
Since we can't visit our favorite art museums at the moment, Virtual Art Museums are the next big thing. Immersive Van Gogh is an experience coming to Los Angeles in May 2021. It depicts Van Gogh's Art and gives viewers a completely different experience. You walk through what seems like glass hallways illuminated by live brush strokes and moving images. The creators are enforcing CDC Guidelines to prevent the spread of the Corona-Virus. All patrons must wear masks and keep a distance from those outside of their household. You can purchase tickets at vangoghla.com, beware that tickets are selling quickly.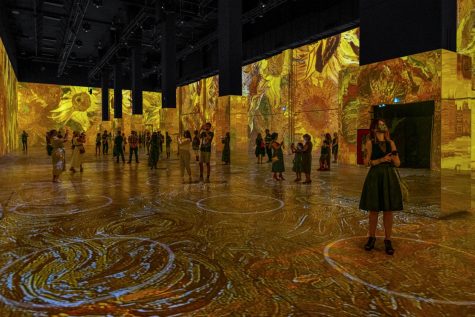 Presented by Netflix and Fever, the Stranger Things drive-thru experience. Their website described it, "In a central DTLA location, you'll dive into and explore a living, breathing story to savor some of the best moments from the Netflix series and maybe even witness some unforeseen and unusual occurrences." As you drive through, you can see life size characters from the series. Patrons can enjoy Stranger Things themed music as they enjoy the display of lights and props from the set. Standard access tickets are starting at $89.99 at feverup.com. 
If you need an escape, or want to transport yourself into some of Van Gogh's finest art, Los Angeles is the place to be.