Ms. Olivia: Survivor Story
Ms. Olivia . Some may know her as our attendance office clerk, but at South El Monte High School, we honor her as a survivor.
Breast cancer is a disease that affects more than 276,000 people yearly. Although breast cancer is common in women, more than 500 men die from breast cancer each year. Most diagnoses take place in people over the age of 50. 90% of women diagnosed with breast cancer survive 5 years after their diagnoses. Unfortunately, 42,000 women and 500 men will die from breast cancer this year. 
Ms. Olivia was diagnosed with breast cancer on August 12, 2013. When she was initially diagnosed, she remembers how terrified she was of dying. "It's really scary when your doctor tells you those dreadful words, "YOU HAVE CANCER," Ms. Olivia recounts. 
Her main support system throughout this journey was her daughter. "I was fortunate to have a very strong daughter who knows what questions to ask and we immediately made a decision on a mastectomy, then chemotherapy." She went through 16 rounds of chemotherapy. 
Ms. Villanueva tells how her daughter bought a white board and put "16" because she was undergoing 16 rounds of chemotherapy. "My daughter thought if we counted down, it would be easier than watching the number go up. Every time I completed a dosage of chemo, we would delete the number and add the lower number. Mentally, it made it easier for me to get through so many doses of chemotherapy." Ms. Olivia had her last chemotherapy treatment on March 14, 2014.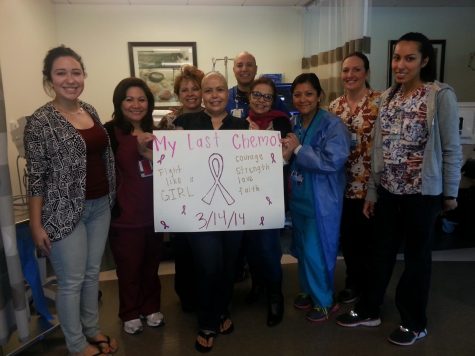 Although she is not in treatment anymore, she takes chemotherapy in a pill form. "God Willing, April 2024 I will be done with all my chemo treatments." 
Olivia's journey has taught her to enjoy every second of life and not take anything for granted. "Life is so precious and we only get one, make it the best." 
Living life after treatment is a blessing for Olivia. "The colors were brighter; the smells were delightful and my taste was sweeter. I love to sit and watch people walk, I thank God for allowing me to be here another day." She appreciates the little things in life and never forgets to live in the moment.
Ms. Olivia is definitely not alone in this. According to breastcancer.org 1 in 8 women will develop invasive breast cancer in their lifetime. She gives advice, "Be aware of your body, we know when something is wrong. Make sure you do a full examination monthly." 
Although breast cancer is a scary thing to conquer, it can be prevented. Making lifestyle changes can help lower your risk of developing cancer. Exercising and keeping a healthy weight are great ways to regulate your chances of being diagnosed.