The Bright Side to Online Education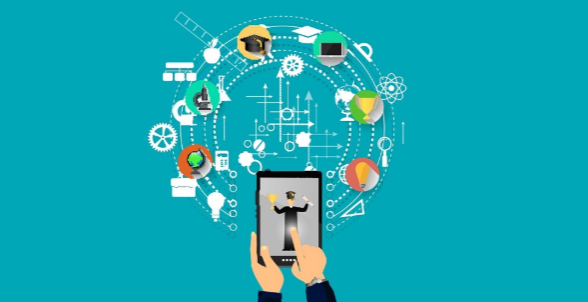 Schools all across America have been closing due to the pandemic of the coronavirus leading to the question, what in the world are we going to do about our education?
On March 13 South El Monte High School and the entire El Monte Union High School District announced to students through email and speakers that the students were going to be dismissed from school to practice social distancing and slow the spread of COVID-19. 
The following Monday, teachers were required to go to a meeting and learn how to use programs such as Google Hangout Meets and Zoom to communicate with their students face to face through the screen and make sure everyone understood directions. " Most teachers have been using Google Classroom for years and have enough experience to teach others how to use it. Our instructional coach and tech educator offer assistance if needed. I learned from my fellow peers," stated art teacher, Maria Davila.
Some teachers even stated that online education allowed them to keep track of how many students are turning in their work. The use of technology also eliminates the extra step of teachers making copies of assignments for their class. "I find it convenient and like the idea of saving paper. It's nice to not have to carry a stack everywhere and there are helpful tools for grading online." says English teacher, Daniel Magaña.
The transition from paper to online didn't pose a problem for most teachers since online assignments were already a common method used. Providing students feedback on their work has become easier since comments can be given regardless of where the student is located. Organizing assignments has also become more effective since all the work can be contained in a Chromebook.
Since all students were provided Chromebooks and any students that don't have WiFi at home are given portable WiFi so students don't have to worry about not having the materials for their online classes. 
Usually, students stayed at school for six hours and got home tired. Many couldn't spend quality time with their family without worrying about finishing homework. While staying at home both students and teachers can spend time with family members that they may not see often. Cesar Reyes Jr. a junior said "well now that we have online school I have more time to work and can do my homework whenever I want. I also get to help my grandfather in his business and help families get beans and rice."
Online classes help students who feel uncomfortable or anxious around students in real life focus on their education without worrying about feeling judged by their peers. Students can also relax in the mornings and eat breakfast or sleep later, instead of rushing to get to school before the bell rings. Without the added stress of having to worry about being tardy students can casually do their homework in their bed if they wish.
Asking educators questions may also be less intimidating to students who don't feel comfortable asking for help in class. Typing comments in Zoom and hangout chats efficiently eliminates the hassle of everyone raising their hands to ask questions in class.
Senior, Thamelie Than points out the benefits online education has on our technical skills, "It makes us more knowledgeable in technology that we may need to use in future jobs and education." In the present day, many companies use video chatting programs to communicate with foreign businesses to discuss commerce and create plans. 
Being able to make their own food is also an added benefit to online classes. After graduating the majority of students will have to provide their own meals, and by knowing how to cook for themselves students can spend less money on takeout and more money on utility bills and desirable goods.
Growing teens require more sleep than average adults so students can now decide how long they get to sleep. Also by not having to drive to school, parents and students with cars save money and time on transportation. "I feel less stressed since I'm home and I feel like I have more time to do my work since my time isn't being wasted on bus rides home or anything," says junior, Jenevive Anzaldo.
Students must not forget that online classes are still classes and have to schedule their time wisely in order to still get work done in exchange for the freedom to stay at home and do work from bed. With a positive mindset on the school's situation, students can make the best of their time.