Karla Gives Clothing a Second Chance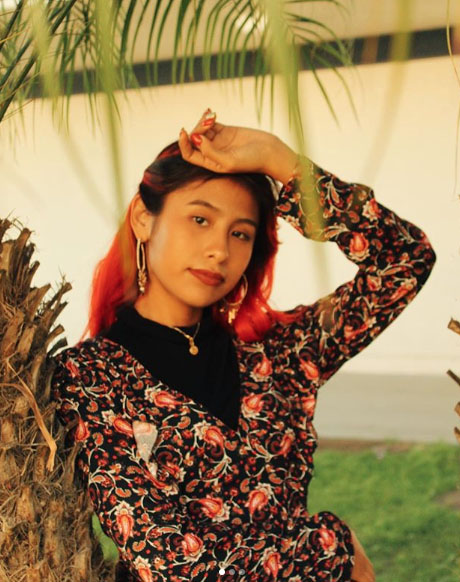 Colorful hair, red lipstick, and unique hats. You can't miss Karla Orega as she struts the hallways. Karla Ortega is well known for her fashion sense since freshman year. Even students who haven't had her for any classes can recognize her from her large range of colorful items.
Fashion has been an important part of many cultures since the start of humankind. They represent movements and tradition and unlike regular history textbooks, fashion can convey ideas with just a glance instead of using words. 
In the present day, people still use clothing as a way to express themselves and in the future, our current trends will become a way to understand what it was like to live in the 2020s.On an average day, it takes from 20 to 30 minutes for her to decide on an outfit, accessories, shoes, and hair.  
Many would describe her dressing aesthetic as an urban retro and antique. You will often spot Karla sporting mom jeans, floral designs, and gold earrings. Her closet is filled with a wide array of pigments, from dark to pastel to bright. No matter the outfit Karla never fails to include black.
Her hair has been the final touch that pulls together tho her looks She often wears it half up half down style. She has also had her hair dyed by her older sister, Veronica, who is a cosmetologist and dyes hair at Idyllic Hair Loft in Valley Blvd. Karla currently has turquoise hair but wears a straight purple wig occasionally for school spirit based events such as the junior's spirit day and the Night Rally.
Besides helping Karla create her classic hairdos, Veronica has also had a huge effect on Karla's closet. Karla has looked up to her sister's style since around the end of sixth grade. Her sister would wear boots and skirts often which fascinated Karla's younger self. "Her style was always edgy so I loved it and copied her a lot, and now we have different styles, but she was a huge inspo of mine," says Karla.  
Her fashion sense has been influenced by her favorite childhood shows such as Lizzie McGuire, Gossip Girl, Wizards of Waverly Place, and Friends. Where the trend consisted of denim jackets, mock turtleneck tees, and slip dresses.
She buys her clothing items from Zara, Cotton On, and Forever 21. She also enjoys shopping at thrift stores to give life to used clothing items." I like when clothes feel broken into, and a lot of the times the clothes in second-hand stores are way cooler than the clothes they sell now. It's also eco-friendly so hello!!" comments Karla Ortega.
Currently, Karla is uncomfortable wearing crop tops but is pushing herself to expand out of her zone and try out new looks. "I think because I'm not super confident in my body, I dislike the number of crop tops I come across because I'm still not up to wearing them so much. But I have been trying harder to wear some more often," says Karla Ortega.
One trend she has become a fan of is the oversized victorian sleeve because they make regular outfits stand out more. The victorian sleeve is inspired by the 18th century and creates the appearance of a slender waist.
Although Karla's style hasn't changed much from middle school she has added more dresses and heels to her collection as her boldness grew. When attending Kranz middle school she wore uniforms."I think school uniforms are dope, mainly for the reason that you save a lot of time getting ready. Even though I wore uniforms I somehow still managed to spice up my outfit.
Her favorite clothing items that she owns are black high waisted flared jeans, light blue jeans that she thrifted, a black turtleneck, and dark green flower print dress. As Karla grows she will continue to expand her style and find new inspirations. Although her looks may change there is no doubt that Karla will continue to have a well-known reputation in school for her dress sense.