Top 5 Songs in My Playlist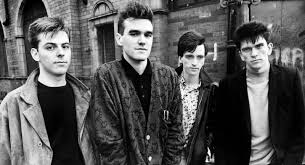 At a young age I developed a passion for music. I had this appreciation for all genres ranging from classical to country to rock etc. Depending on the occasion, I had the exact playlist and perfect combination of songs to match. But there are 5 songs that are my ultimate go-to for everything. Each have their own story and significance as they played a part in my life.
The first one is "Tennessee Whiskey" by Chris Stapleton. Originally performed by David Allan in 1981 but this version takes the cake. Everything about this song just makes you feel warm. When I first heard it, I automatically fell in love. The Blues with Country are my favorite kind of combinations. This takes me back to summer of 2016 and out-of-state tournaments with my teammates hanging out after games. 
"This Charming Man" by The Smiths is an all around feel good song. Morrissey's flamboyance sparked this controversy of men not being allowed to be feminine in the music industry. But he broke those barriers when The Smiths performed on Top of the Pops in 1983 when he swung a bouquet of gladioli around while singing. I remember watching the video on YouTube years ago and thinking wow, this guy's awesome. It was life-changing and the rhythm was infectious. 
  There was something about this song that gave me this rush of being on top of the world every time it would come on. That song is "Black Dog" by Led Zeppelin. Jimmy Page and John Paul Jones were pure geniuses when it came to rock n' roll. Along with Robert Plant's vocals, this masterpiece made its way into my iPod nano in 2011. This is definitely not a song I would dance to, but I would blast it before a game or in the car when I needed a push.
"Ex-Factor" by Lauryn Hill was a song I listened to often when I was young. My mom was a big R&B enthusiast so I grew up with artists like Mary J. Blige, Sade, Maxwell, and so forth. In this song, she talks about an emotionally abusive relationship where the two are toxic but when one tries to leave, the other manipulates them into staying. The reason she can't leave is because she loves him too much to let go and therefore the cycle repeats. Nonetheless, the song is painful but beautiful because she knows she's finally strong enough to leave. 
Lastly, "May 1st" by Beach Fossils is this sort of comfort when I feel out of place. My favorite Indie-Alt band came out with this song in 2017 and has been at the top of my list ever since. This band is known for their light and fresh rhythms covering their nuanced, melancholic lyrics. Lead singer Dustin Payseur briefly sets aside his own feelings of loneliness and personal struggles, a theme he deals with throughout the album, to lend a hand to someone who has their own personal conflicts, even if that person doesn't end up staying in his life. 
This was the most difficult article I've ever written because I couldn't think of which ones to choose. Eventually some of their impacts outweighed the others and it felt right. I feel like these songs give a glimpse into who I am as a person, and my music taste. I definitely recommend listening to any of them at least once.