Clothing As A Canvas
As the new kid at school Matthew has always stood out for his distinct fashion sense. Whether it's by wearing a simple hoodie he would make it his own by adding patches and stitch work. As Matthew said, clothing is meant to be used as a "canvas where you could add whatever you want". He is inspired by his friends, who like him, have a unique sense of fashion as well as popular artists like The Germs and The Stooges. Matthew likes to display his music taste in what he wears, he does this by wearing band tees and adding patches to everything. Doing this allows the community that he is part of to become known by the people here at south. 
The two clothing items Matthew could not live without include his black pair of Dickies and his black beanie with a pin from his favorite "The Office" character Dwight. As you can see his wardrobe is filled with dark colors and shades because according to him, "they go with everything," which is why his staple clothing items are black. However he is still open to wearing bright colors since he does own a couple yellow things. He is also not one to mix brands, for example he currently owns a pair of black DC shoes and refuses to wear vans with them.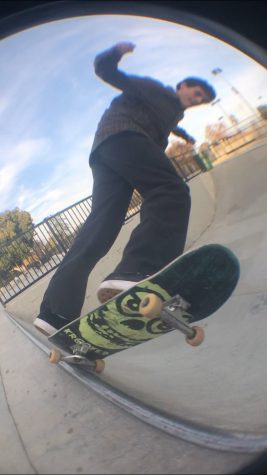 Since he skates, it is essential for his clothing to be comfortable and loose. Skating in a pair of skinny jeans or a small shirt is not ideal. The loose clothing allows him to breathe and flow with his type of skating. He loves to skate ledges and manny pas but he also loves to bomb hills going 25 mph or skating half pipes. He developed a passion for skating when his friends would take him to The Grove of Anaheim to skate. 
Despite having a dark fashion sense, Matthew has a very bright outlook on life. He is often seen smiling while he talks to his fellow classmates. He also mentioned that the only movie that has ever made him cry is UP. As you can see he is not as hard core as his clothing portrays him to be.