Lights, Camera, Fashion
In the eyes of society, "fashion is a popular aesthetic expression in a certain time and context, especially in clothing, footwear, lifestyle, accessories, makeup, hairstyle and body proportions." Many different aesthetics are trending right now on social media like vsco girls, skaters, retro, soft girl, mom friend, grunge, etc. Some students here at South fit into these certain aesthetics and it's the way they express themselves. Many of this year's freshmen are new to the concept of no uniforms so we can learn something about them by their taste in clothing or by the aesthetic they present themselves in.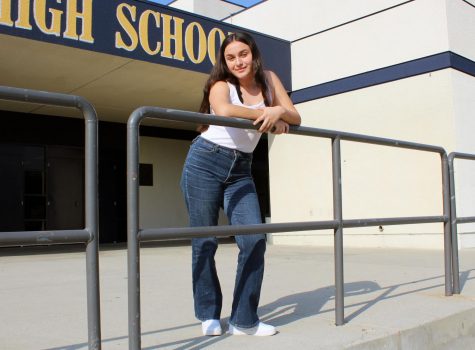 Freshman Amanda Medina caught the eye of an eagle here in the nest. She tends to go for a more retro look and is inspired by the 90s fashion. Fun fact, during 1994 the "grunge" style had completely taken over and it seems to have made a comeback in previous years. Clothing items such as denim zip-up vests, baby-doll tees, thigh highs, vintage dresses, crop tops, biker shorts, tees under sundresses and more have also taken over in the 90s. She aims for that "you can chill with me" type of look. Amanda hopes that her aesthetic gives off a fun and cool vibes.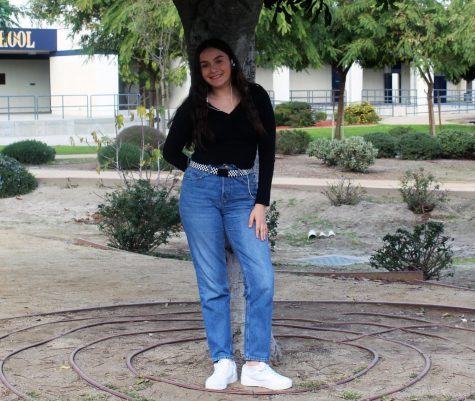 She not particularly inspired by anyone's style, just the whole 90s aesthetic in general. "I just try and look for a retro look and I just see what I could find in my closet." Amanda would describe her style, "That girl you could vibe with and chill with, you know." It doesn't usually take her long to find an outfit to wear depending on the day. It usually only takes her about 5 minutes to choose an outfit on a regular day. According to Amanda, there's a major difference between the way she dresses now and when she was younger. 
Thrift stores and H&M are her go-to when it comes to buying her clothes. To personalize her outfits she likes to focus on the colors as well as socks and headbands. Some of her favorite colors to wear are white, black, and camo green. When it comes to second-hand clothing Amanda states, "It's fine. For me, I only care if it looks good on me." She doesn't go shopping as often as others but she tends to shop for clothes every 2 weeks. She doesn't have a favorite brand she likes a lot of brands. When it comes to exploring other trends, " I like the skater kind of look with the loose pants."
Fashion is important because it reflects every culture in the world. We do not wear the same clothes through the centuries so fashion trends have always been a thing. I think people feel overwhelmed when it comes to fashion because it is fast and trends are every time shorter but it is just following our digital world where everything goes faster. Fashion is a way of self-expression – you can either choose to play with it or let others decide what your outfit tells about you. To Amanda fashion means, "it's a way to express my personalities through my choice of clothing."